Previous meetings, 2019/20
The details of our meetings in the 2019/20 season appear below. Why not join us next time?
To Oak, or Not To Oak
6th March 2020
In March, we welcomed Victor Maguire, with a discussion of to oak, or not to oak.
We started the evening with a brief introduction on the origins of oak use, how and why it's used; where the best oak comes from and how it is crafted into a variety of formats. We also discussed the various methods and the different influences they bring to the development of wine and the ultimate character and quality. We then did four taste comparisons of oaked and non-oaked wines which really helped to bring out the differences.
Janina Doyle, UK Brand Ambassador for Vina Ventisquero
7th February 2020
For our February tasting, we welcomed Janina Doyle, who presented a selection of premium wines from the Vina Ventisquero portfolio.
Created in 1998, Vina Ventisquero is one of the top Chilean premium wineries, with vineyards in most of Chile's famous wine regions. It also has the most northerly vineyards in the Atacama desert, where it is the only company making wine. Among its winemakers, it boasts John Duval, the former Penfolds Grange Chief Winemaker. We tasted wines at three of their price points: the more entry-level Reserva, their mid-range, good value Grey range and two of their top level Icon wines.
Armenian Wines, with Andrew Price
10th January 2020
In a follow up to his Georgian tasting last season, Andrew Price kicked off 2020 with a tasting of a Armenian wines.
Armenia has an incredibly ancient wine history and culture, and we looked into the history, and tasted a selection of wonderful wines.
The NEWTS Christmas Tasting, with Douglas Harrison
6th December 2019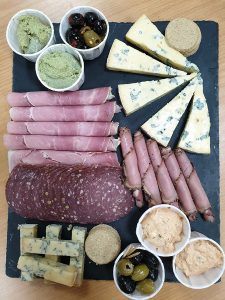 This year's Christmas tasting focused on the Bordeaux Region. We covered whites and a pair of St Emilion roses before tasting some delicious reds. We finished up with a 1999 port from Kopke, the oldest of all the Port houses, founded in 1638.
Our tasting visited Monconseil,  where Charlemagne The Magnificent held his peace council in 804 AD; sampled the product of some of the oldest (pre-philloxera) vines in Bordeaux; and investigates St Emilion's rose production; among other delights.
As always with our Christmas meeting, the wines were accompanied by a selection of tasty titbits, including asparagus pate, venison salami, and of course a Stilton to go with the Port.
Wine Regions of Argentina, with Ian McLaren
1st November 2019
For our November meeting, we welcomed back Ian McLaren, of the Central London Wine Society, for a trip to Argentina.
The wine-growing area of Argentina runs from Salta, in the foothills of the Andes at 250 South (and at altitudes of up to 3,111 metres) to Neuquen in Patagonia at 380 South (where the grapes are grown at an altitude of a few hundred metres). This is a range of almost 2,000 kilometres.
The most famous wine region is Mendoza, where much of the wine exported to the UK is produced. Here, vines are cultivated on hillsides as high as 1,700 metres. There are four main sub-regions, with the best being Luyon de Cuyo and the Uco Valley, both south of Mendoza City.
Argentina is principally known for Malbec, but a range of other European varieties are also grown, particularly outside Mendoza. Torrontes, which is possibly of Basque origin, is almost entirely grown in Argentina, generally at high altitude. Chardonnay is widely cultivated, with other white varieties being of less importance, mainly coming from Patagonia. Cabernet Sauvignon and other French red varietals are also common, with Syrah often being used as a blending grape. Italian grapes, particularly Bonarda are grown in warmer areas, and are mainly for local consumption.
The Rhone, with Gilbert Winfield
4th October 2019
For our first meeting of the 2019/20 season, we were delighted to welcome back Gilbert Winfield, whose ith a tasting focused on the wines of the Rhone Valley. This region is very popular with many of our members and we tasted some of the fantastic blends for which this region is so well known. The reds featured prominently, but we also enjoyed some of the modern style whites and a rose which this region is now producing.
Gilbert is a member of the Association of Wine Educators, a WSET approved educator and a member of the Circle of Wine Writers. He has also passed the examination for the 'Master Rhone' programme with Inter-Rhone, the representative body for the wines of the Rhone Valley (who are part sponsoring our evening), making him an Accredited Rhone Tutor.