Previous meetings, 2015/16
Friday 3rd June
New Wave New Zealand, With Will Parker
To round out close our 2015-16 season, we were delighted to welcome back Will Parker, discussing the less common wines of New Zealand.
New Zealand is familiar to all of us in terms of its wine and most familiar for its Sauvignon Blanc. However there is a lot more to it than that with a good variety of both reds and whites. In recent years there have appeared a number of offerings from grapes not considered by any means to be major 'international varieties', particularly as regards white ones.
Friday 6th May
South African Wines with Ian McLaren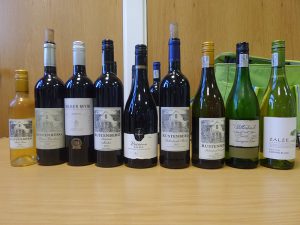 South Africa offers extremely good value for money at present, partly because the currency has been very weak due to the low price of metals in the world market.
Although South Africa is counted as part of the 'New World' for wine purposes, it has been a source of table wines since the seventeenth century. Some of the estates predate famous Medoc ones by more than a century.
The style of South African wines lies somewhere between those of Southern Europe and other New World wines. Although the climate is hot in the summer, the grapes do not get as 'cooked' as happens sometimes in (for example) South Australia. This means that it is a reliable source of dry white reds as well as rich red and sweet ones.
At this meeting, Ian McLaren reintroduced us to some of the affordable South African wines currently available in the UK.
Friday 8th April
Unusual Spanish Grape Varieties with De Vinos
Spain is the third largest wine producer in the world, but the first in terms of number of hectares planted! This is because Spain has, on average, more old vines than other traditional wine producing countries.
But have you ever heard of Mencia, Bobal, Rufete or Albillo? These are native Spanish grape varieties producing authentic wines with character and personality. These and other lesser known varieties were presented de Vinos, a UK independent wine importer and distributor specialising in Spanish wines, at our April tasting.
De Vinos was founded in 2013 by Spaniards Bruno Murciano and Luis Sanz. Bruno is an award-winning sommelier (the best sommelier in Spain in 2008 and an international silver medal winner in 2009), with previous experience at The Ritz in London, and also with Bibendum, one of the largest UK wine distributors. Luis is a former Investment Banker and Management Consultant, with professional experience at reputable firms like Morgan Stanley and Boston Consulting Group.
It was a fascinating tasting, which shed new light on a traditional wine producing country.
Friday 4th March
Go Brazil! with Richard Bost
This month we welcomed back Richard Bost, who gave us a fascinating and delicious tasting of Brazilian Wines. Some superb wines are made in the cool-climate regions in the South, close to the Uruguayan border. In 1875 a group of Italian immigrants began making wines in Brazil, & by 1884 over 8 million litres of wine had been produced. The Italian influence continues to this day, with many of the wine-makers being of Italian descent.
The tasting began with a Traditional Method sparkling wine, which was followed by two different white wines, four reds, and a delightful sparkling Moscatel complete the line-up. A fascinating & enticing selection!
For more information about Go Brazil! visit their website.
Friday 5th February
Australian Wine: Past, Present and Future, with Paul Mapplebeck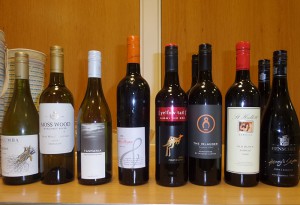 Australia conquered the UK wine market with cheap but tasty wines using French grape varietals. As this market is being eroded by Argentina and South Africa they are looking for higher value niche markets, often using Spanish and Italian grape varietals and new techniques and growing areas.
Everything seems to be changing but in the past Australia has produced world class reds as well and hopefully these will continue. Paul Mapplebeck brought along St. Hallett Old Block and Henschke Henry's 7 to compare with newer styles.
Friday 8th January 2016
Wines of Uruguay with Carla Bertellotti
Uruguay is the second smallest country in South America, but the fourth-largest wine producer of the continent. Wine has been made in Uruguay for well over 250 years. All the wineries are small and still family-owned and run. The wines are virtually all hand-made every step of the way, and infused with the passion and enthusiasm of these families, resulting in unique wines with characteristics that reflect both the terroir of the vineyard and the personality of the individual winemaker. Uruguayan wines are versatile, complex, and worthy, and they offer excellent value for money, significantly surpassing Chile and Argentina in terms of price-quality.
Uruguayan born Carla Bertellotti, started the first specialist importer and distributor of Uruguayan wines in the UK almost 6 years ago, called Wines of Uruguay UK. During this period she has worked tirelessly to promote the wines from her home country.
Friday 4th December
Douglas Harrison Looks Forward to Christmas
For our December meeting, we had an excellent visit from Douglas Harrison of Harrison's deli on Pitshanger Lane. He highlighted a fine selection of delicious festive treats, from and introductory sparkler to a strawberry dessert wine. These were complemented by a selection of excellent Christmas nibbles.
Friday 2nd October
Gilbert Winfield, The Origins of Wine
At our October meeting, local wine educator Gilbert Winfield (you may have seen his little green Wine Events van around Ealing) took us through a fascinating tasting on the Origins of Wine. We tasted modern versions of ancient wines. For example, a Georgian wine still fermented in earthenware pots (kvevri), in the same way that it was 8000 years ago, according to archeological evidence; and a wine from Santorini made from vines cultivated in a 'birds nest' arrangement, as they have been since the beginning of cultivation on the island.
Friday 11th September 2015
Red Squirrel Wines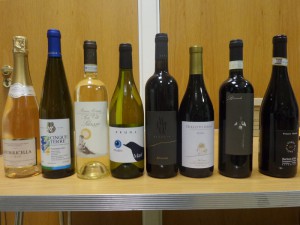 For our first meeting of the new season, we welcomed back Rob from  Red Squirrel Wines, who presented a fascinating selection of "Red Squirrels" from the little-known region of Liguria – which lies to the south of Piedmont and hugs the Mediterranean coast from Monaco round to Tuscany; and the unloved or overshadowed grape varieties of Piedmont – such as Arneis, Dolcetto and Bonarda. These wines are unusual, delightful and can offer fantastic value for money. Beat the rest of the wine world to their discovery.