Previous meetings, 2014/15
This season we have had some excellent tastings.  Why not come along and join us next time?
Friday 19th June 2015
England, Fair England
448 registered vineyards. Well over 100 wineries. Moving towards 2000 hectares under vine. A capacity of over 6 million bottles (in 2014). Sales over £70m last year and medals galore
English wine is now well and truly on the map. There are reds and rosé but the majority is white and specifically sparkling which is best suited given our climate (helped by our soil types).
While South East England features prominently there are vineyards much further afield.
This evening we showcased the various styles with two sparkling, four white one rose and two red and we range from Cornwall to Kent.
Friday 8th May 2015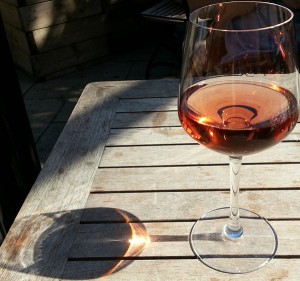 Summer in a Glass with Nigel Gibbes
Because of the Bank Holiday, our May tasting is a week later than normal this month.
Nigel Gibbes will be presenting a selection of wines to match an English Summer (oh dear, anything is possible!!), and more importantly, English Summer foods whether as an aperitif, main course or puds. The selection will include light whites, summer reds and the occasional rosé for variety, topped and tailed with some summer fizz and a dessert wine to finish.
10th April
The Loire with Humble Grape
The Humble Grape presented a flight of their wines from boutique producers who make hand-crafted wines from this beautiful region.
Humble Grape are an independent wine merchant and tasting event company specialising in boutique, hand-crafted wines from small vineyards. Our events are geared towards discovering new gems from small producers you may not recognise. and are governed by the simple philosophy that wine should be fun and approachable, without any snobbery, with laughs guaranteed. For more details about them, visit their website: http://www.humblegrape.co.uk/.
6th March
Californian Wines with David Cooper
We had a small but delicious tasting of Californian Wines on the 6th March.
The USA was originally called 'Vinland' by the Vikings due to the number of wild vines growing, unfortunately they were not suitable for grape juice and jelly! European immigrants made several attempts to plant their own vines and eventually the missionaries were successful. California now produces 90% of all Us wine but most of that is volume and only 4% of the quality wine comes from the Napa Valley. David Cooper has visited the vineyards of Napa & Sonoma and will provide some of the history of wine-making through a selection of wines that will also highlight the diversity in the varieties and styles of wine they produce.
6th February
Slovenian Wines with Blice Wine
The lovely Stasa Mozetic Flauto, founder and owner of Blice Wine, took us on a fascinating tour of Slovenian Wine. There are areas in Europe where amazing wines are made thanks to unique combination of climate, soil and dedicated wine-makers. Slovenia is one of such areas. The national production of wine is only a fraction of that of somewhere like France (0.1%!). However, the result is some excellent, slightly unusual wines, which are exclusive and rare, with only a couple of thousand bottles of each produced every year.
Slovenia has a rich viticulture history. In fact the oldest vine in the world is in Slovenia! The Old Vine is the oldest living specimen on our planet of a noble grape vine that still bears grapes! With an age of over 400 years it is registered in the Guinness Book of Records as the oldest vine in the world. Wine varieties span from worldwide renown varieties such as Sauvignon Blanc and Merlot to indigenous ones like Rebula and Refosk. Thanks to a unique combination of climate, soil and passion the high quality wines have Balance, Length, Intensity, Complexity and Expression. So you can experience and enjoy wines that arouse the taste buds and create a burst of flavours in the mouth!
For more information about Blice Wine, visit their website: http://blicewine.co.uk/
9th January 2015
The Southern Rhône: In Search of Perfection
Paul Mapplebeck guided us through the quality levels of the Southern Rhône and show just how fine these wines are in good vintages. He even raided his rapidly declining collection of top wines and give us some great wines from the Chateauneuf du Pape region, with Robert Parker marks up to 95 such Clos de Papes.
Friday 12th December
A Seasonal Selection with Will Parker
For hosting a celebration or eating a seasonal meal, there is a wide range of styles and types of wines to choose from. Will showed us a selection to fit various occasions for the time of year, with something to suit all palates.
Friday 3rd October
Romania, with Richard Bost
Romania has a long association with wine making, dating back more than 4,000 years – in fact Dionysus, the Greek God of Wine is said to have been born here!
It is a country of great contrasts, with the Carpathian Mountain range, the Transylvanian Plateau, the gently sloping Dealu Mare region, and the richly fertile Black Sea Delta. The capital city Bucharest is a lively, bustling metropolis, with tree lined avenues and many historic buildings. It has its very own Arc de Triomphe, and has been nicknamed 'Little Paris' since the 1900s.
Romania remains one of the few undiscovered wine regions of the world, and it is only now that they are starting to share some of their best wines with us. For many years they have kept these a closely guarded secret. Not only do they produce some of the best Pinot Noir under £15, but they also have a host of indigenous grape varieties to discover. Fragrant and unpronounceable grapes such as Tamaioasa Romaneasca, described by Jancis Robinson as the Frankincense grape; Feteasca Alba, or the White Maiden; and distinctive red varieties such as Feteasca Neagra, or the Black Maiden.
Friday 5th September 2015
Committee Choice
We kicked off the season with a Committee Choice evening of locally-available, affordable wines that we had discovered over the previous few months. We offered ten wines from around the world: South America had a good showing, with other contributions from California, Europe, South Africa and Australia. We hope that you will enjoy our selection as much as we've enjoyed choosing it.