Previous Events, 2018/19 season
The details of our meetings in the 2018/19 season appear below. Why not join us next time?
Georgian Wines, with Andrew Price
5th July 2019
For the last tasting of our 2018-19 season, we welcomed back Andrew Price, who took us on an adventure to discover the wines of Georgia (the country, not the state!).
Georgia has over 8,000 years of wine history and as such, has so much to teach us both from a cultural and viticultural point of view.
Andrew has lectured in wine and history for Oxford University and gave us a very entertaining tasting tasting.
Mexico, with Richard Bost
7th June 2019
Did you know that Mexico makes some rather good wine? We welcomed back Richard Bost, to remind us us just how good some of these wines are.
Perhaps surprisingly, Mexico was the first country to make wine in the Americas, before Chile, Argentina, and even California, and its history of wine-making dates from 1521, one year after the arrival of the Spanish Conquistadors.
The wines are made in the North-West of Mexico in an area known as the Baja California Peninsula. This temperate area has the Pacific Ocean to the West and the Gulf of California to the East. It is also cooled by the Alaskan Current, and this gives climatic conditions similar to the Napa and Sonoma Valleys, including the morning fogs.
During the evening, we will be tasting four white wines and four reds, all made from International grape varietals.
Greek Wines, with Ian McLaren
3rd May 2019
Over the last twenty years, serious winemaking had spread throughout the best regions of mainland Greece and the islands. Ian McLaren took us through some of the recent developments. He started with a grape that is becoming fashionable, both here and in Greece: Moscofilero is a Muscat relative, producing light, fruity wines with balancing acidity. He then moved on to two mature whites – Hatzidakis Assyrtykp from Santorini, and an Asproudi from Monemvasia, made in the southern mainland.
The red wines also came from top makers, and use the most interesting local varieties. After a Kalavryta from Tetromythos, we will taste a set of Xinomavro wines from Thymiopolous, of different quality levels and and from different regions, and were rounded off with a sweet Muscat from the Island of Samos.
South African Stars, with Peter May
5th April 2019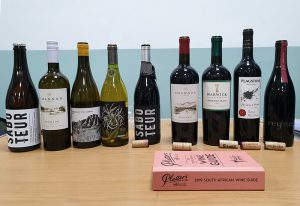 For our April meeting, we welcomed Peter May, pinotage specialist and author of Pinotage, Behind the legends of South Africa's own wine. Peter is considered to be one of the leading experts on South African wine, and is also the founder of the Pinotage club at www.pinotage.org and an Honorary member of the Pinotage Association.
His investigations have taken him from South Africa's Cape wine lands to California, Canada, France, New Zealand, Texas, London and Virginia. Not only does he spend a lot of time in South Africa, but hes is currently in the country and is going to bring back only the highest quality wines for us!
He presented a selection of top Platter scoring wines, covering nine wines, of which seven hade the highest (and rare) score of 5 Stars from Platter's South African Wine Guide. The other two were 4.5 stars (these are new wines from a great wine maker that I've not seen here before).
Platter annually rates more than 8,000 wines from over 900 producers on a 5 star system. Fewer than 100 unfortified wines get 5 stars. 5 Platter stars = 95-100 points on Parker's scale, while 4.5 stars = 90-94 points.
Pinot Noir Around the World with Jimmy Smith
1st March 2019
For our March tasting, we welcomed back Jimmy Smith, who presented a collection of Pinot Noir-based wines from around the world. Pinot Noir is often regarded as one of the most difficult grape varieties to grow successfully, and is best known as the grape of Red Burgundy and one of the principal varieties in Champagne. Today, Pinot Noir grapes are planted around the world, including Oregon, California, New Zealand, Australia, Chile, France, Spain, Germany, and Italy. The wine's diverse geographical range means that you might also find it labelled as Pinot Nero, Blauburgunder, or Spatburgunder.
Californian Fine Wines (with a brief detour to Washington State), with Robbie Rugman
1st February 2019
For our February tasting, we tried a collection of fine wines from the USA, predominantly from California. From the cool regions of Russian River and the Central Coast, we sampled floral, balanced Pinot Gris and deeply perfumed Pinot Noirs from the MacMurray Ranch; followed by heavier, rewarding Cabernet Sauvignons from the Napa Valley and Sonoma County, produced by pioneer Louis M. Martini.
We also tried a a Chardonnay from the Columbia Winery in Washington State. Washington's wine region has flown under the radar, with its neighbor Oregon taking center stage as the new exciting region. Washington has amazing potential with its summer days with an average of 16-hours of sunlight, days and low rainfall, no wonder it produces wines from 16 grape varietals!
NEWTS New Year Tasting – Burgundy with Paul Mapplebeck
4th January 2019
For our opening tasting of 2019, Paul Mapplebeck delved into his cellar to bring us a range of white and red burgundy across the quality levels from Villages to Grand Cru. On the whites side, we we started with a 2017 Macon Villages Uchizy, working up to a 2009 Puligny Montrachet 1er Cru Chalumeaux; while for the reds, we began with a 2014 Hautes-Côtes de Beaune, working towards the star of the evening, a 2004 Corton Bressandes Grand Cru. All in all, it was a rare opportunity for a real taste of burgundy.
Christmas Tasting, with Douglas Harrison
7th December 2018

We welcomed back Douglas Harrison, from Harrison's deli on Pitshanger Lane, for a feast of Christmas food and wine. We were tempted by six wines and two ports, accompanied but such luscious treats as: smoked salmon; triple cream cheese; avocado, cashew nut and chilli pate; and Jamon Serrano.
Wines of Uruguay, with Carla Bertellotti
2nd November 2018
Why have you never heard of Uruguayan wine? First, Uruguay is a small country with limited resources and cannot afford the advertising budget of the likes of Chile and Argentina. Second, being a small country the producers are small in international terms, and cannot supply the large retailers that dominate the UK market. As a result, Uruguay produces superb wines but is virtually unknown.
Uruguayan wines are closer in structure, style, and taste to Old World wines, as Uruguay's climate is the closest in South America to Bordeaux; it's humid, at sea level, seasonal and has limestone soils rich in calcium.
All the wineries are small and family-owned and run. The wines are virtually all hand-made every step of the way, and infused with the passion and enthusiasm of these families, resulting in unique wines with characteristics that reflect both the terroir of the vineyard and the personality of the individual winemaker.
These are wines with soul that connect you with the people and the place behind each one of them.
Wines of Uruguay UK was created in May 2009 by Carla Bertellotti who, after moving to England, realised that wines from her homeland were hardly known in the UK. She specialises in the importation and distribution of boutique wines from Uruguay, and has the only business in the UK dedicated to supplying wines from the main Uruguayan producers. She believes that Uruguayan wines offer not only some of the best quality wines available but also offer the best value for money. 
An English Selection with Will Parker
5th October 2018
For our first tasting of the 2018/19 season, we welcomed back Will Parker, with a referesher on English wines.
With over 500 commercial vineyards, nearly 150 wineries, over 2500 hectares under vine, almost 6 million bottles produced, and exports to 27 countries, wine production in the U.K., while still small scale in world terms, is firmly established. There are red, rose and white still wines but the majority is sparkling, which is best suited to our climate and soil types.
While South-East England features prominently, we discussed vineyards much further afield including in Scotland!
For our first meeting of the new season, Will showcased some of the various styles from England (home to over 90% of the production), with three sparkling wines, four whites, one rose and one red; and we range from Cornwall to Sussex to Norfolk and beyond.